celebrity skin new year specials!
Happy 2023! The start of a new year is always an exciting time to me. The beginning of something new. Out with the old, in with the new! Resolutions, a shift in a way of thinking, what inspires me? Whatever it is for you, let's make it a great year together.
Here's the truth….. First, you have to accept there is a no magic pill. Second, it takes making the appointment ahead of time so it actually happens. If you want beautiful healthy skin, it takes a little dedication like getting in for regular treatments as best as possible, using the right products, and most importantly a healthy diet and lifestyle.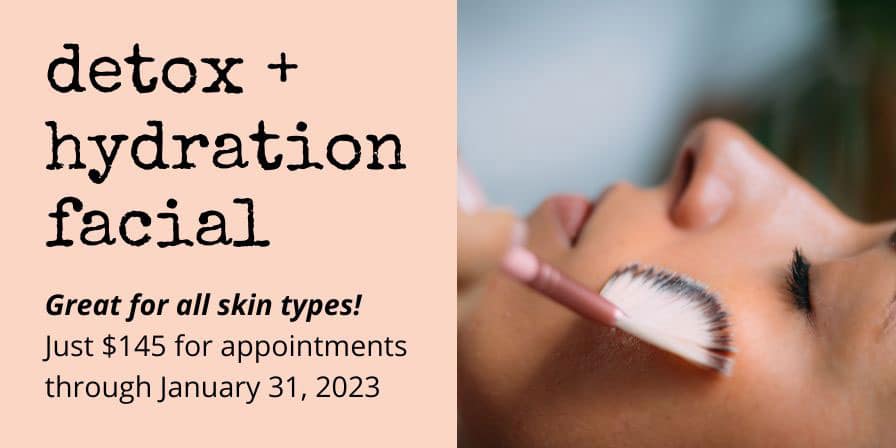 detox + hydration facial new year special – $145
Great for all skin types! The detox + hydration facial includes:
Cherry Enzymatic Cleanser to nourish & polish all skin types to gently digest & lift away dead skin cells for a sparkling glow. Combines the hydrating benefits from milk protein and exfoliating antioxidant power of cherries & resveratrol.
Cacti Flower Enzyme & Latic Acid Blend – Cactus flower has a natural exfoliating action of purified oligosaccharides reduces cellular cohesion for smoother, softer skin while vitamins, minerals and amino acids fortify the skin for added strength and hydration. The perfect finishing mask to balance, detoxify and invigorate skin while refining pores.
L-Lactic Acid – Enhances cacti flower enzyme increasing its efficacy and water-holding capacity of the skin, aids in cell turnover, and provides hydrating and regenerating support.
Steam with light extractions
Microdermabrasion or Dermaplaning
Oxygenating Trio (nourish and hydrate) for very dry skin OR Milk Mask Providing calming, soothing hydration, perfect for dry, depleted, sensitive skin, nourishing with milk protein while providing healing support from vitamin E.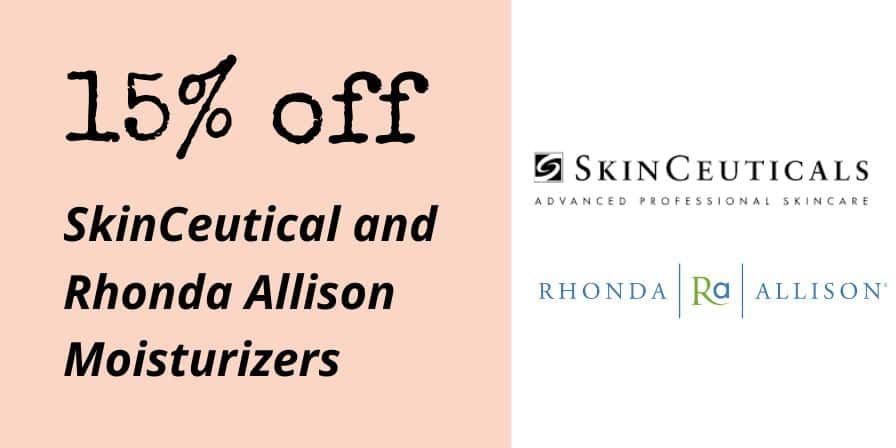 january product special
SKinceutical and Rhonda allison moisturizers are 15% off
RA Holistic Hydration
Skin Types: Normal, Oily, Combination, Sensitive
Provides soothing support for compromised skin using plant growth factors, red clover, sodium hyaluronate and root extracts for antioxidant and anti-inflammatory support, hydration, cell rejuvenation and collagen production.
Great for normal to oily/acne prone skin that just need a little more moisturizer during the colder/dryer winter months.
Skinceuticals Hydrating B5 Gel
An oil free hydrating serum replenishes moisture and restores radiance for a smoother complexion.
Skin Types: Dry, Normal, Oily, Combination, Sensitive
Hydrating B5 Gel replenishes nutrients the skin needs to feel smooth and appear younger. This oil free moisturizer combines vitamin B5 with hyaluronic acid, the body's natural hydrator, to help bind moisture to the skin. It can be used alone or with a daily moisturizer to provide extra hydration, and is an ideal moisturizer for acne prone skin.
Triple Lipid restore 2:4:2
A patented anti-aging cream to refill cellular lipids and nourish dry skin. U.S. Patent No. 10,137,073.
Skin Types: Dry, Normal, Combination, Sensitive
Triple Lipid Restore 2:4:2 is an anti-aging cream that contains the optimal and patented lipid ratio of 2% pure ceramides 1 and 3, 4% natural cholesterol, and 2% fatty acids, which is proven to nourish skin and correct signs of aging. This unique lipid correction cream contains the first 2:4:2 cholesterol-dominant ratio to help restore skin's external barrier and support natural self-repair, while potently nourishing aging skin for improvement in the visible appearance of skin smoothness, laxity, pores, and overall radiance.