Glow & go hydration facial
Brrrr, it's been cold in Arizona this winter and we bet you may be struggling with dull, dry skin?!
Glow & Go Facial Special
The 45 minute Glow & Go Hydration Facial for hands and face just $150 for appointments booked through 3/31/2023 ($235 value!)
Custom Enzyme Mask & Lactic Acid Blend reduces cellular cohesion for smoother, softer, brighter skin.
This facial balances, detoxifies, and refines pores while providing regenerating support for added strength and hydration. Facial Includes steam with light extractions, dermaplaning OR microdermabrasion & PCA's Oxygenating Trio to nourish and hydrate lackluster skin.
Also includes a Deep Hydrating Hand Treatment for the driest skin on the body, especially during winter!
No pain! No peel! No downtime!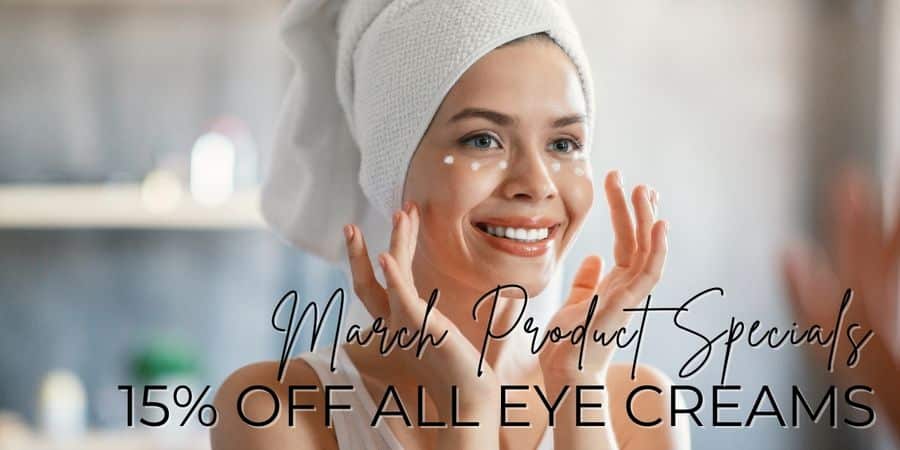 March 2023 Product specials
15% off all eye creams through 3/31/2023
Marini Luminate® Eye Gel
This advanced under-eye gel for dark circles with retinol, Chromabright (TM), peptides, chrysin, ceramides, and more – helps to brighten skin, helps address discoloration under the eyes, reduces the appearance of under-eye circles and helps support the skin to reduce the appearance of crepey skin, fine lines, and wrinkles. Experience brighter, more radiant and luminous looking skin with Jan Marini Luminate Eye Gel.
Skin Types: Dry, Normal/Combo, Oily
A.G.E. EYE COMPLEX FOR DARK CIRCLES
An anti-wrinkle eye cream to fight the appearance of crow's feet, dark circles, and puffiness.
Skin Types: Dry, Normal
Skin Concern: Aging
Features:
A.G.E. Eye Complex is an advanced anti-wrinkle eye cream that improves the appearance of dark circles, puffiness, and crow's feet associated with advanced glycation end-products (A.G.E.), a major factor of the natural aging process. This silky eye cream is formulated for the delicate eye area with a potent combination of proxylane, blueberry extract, and a complex of flavonoids and synergistic peptides. Also includes optical diffusers to diffuse light and immediately improve the radiance of tired dull-looking eyes.
Benefits:
Reduces the appearance of crow's feet and wrinkles
Improves the look of dark circles and puffiness
Immediately enhanced radiance around the eyes
Restores comfort to dry, aging skin
Alcohol-, and dye-free