SkinCeuticals makes products designed by physicians, scientists and skincare professionals that rest on the cutting-edge between cosmetics and pharmaceuticals. Cosmeceuticals contain active ingredients that are clinically proven to treat and correct skincare problems but are not prescription. SkinCeuticals crafts elegant formulations of cosmeceuticals into products for customized skincare regimens for all different skin types and conditions.
SkinCeuticals specializes in products that delivers and boosts vitamins and antioxidant levels in the skin. These award-winning products designed to protect skin from UV exposure and damage also help to build and maintain healthy skin. SkinCeuticals products are also formulated to correct problems like sun damage, hyperpigmentation, acne, fine lines and wrinkles already in place. All products are designed to improve skin health and backed by advanced scientific exploration.
Products are made in the USA, and used and trusted by dermatologists, plastic surgeons and medi-spas.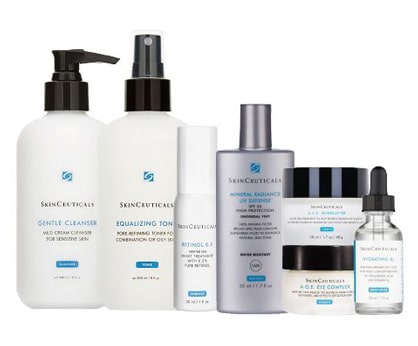 best cream for a younger looking neck
skinceuticals tripeptide-r neck repair
A daily retinol cream specifically formulated for the neck, Tripeptide-R Neck Repair is designed to target early to advanced signs of neck aging, including lines and wrinkles due to repetitive movements from looking down at mobile devices. Formulated with 0.2% pure, slow-release retinol, 2.5% tripeptide concentrate, and 5.0% glaucine complex, this corrective technology is clinically demonstrated to target multiple signs of visible neck aging. Tripeptide-R Neck Repair is specifically formulated for delicate neck skin, is appropriate for daily use, and complements professional treatments.
look amazing. be confident.