facials for men
skin care is not just for women, facials can be specifically tailored for men as well!
Skin care is not just for women. Facials can be specifically tailored for men as well! A man's skin is generally thicker, more sensitive and produces more oil than a woman's. His pH is also more acidic and he can have shave related issues like razor burn and sensitivity.
At Celebrity Skin, our facials for men are always customized to individual needs and typically incorporate microdermabrasion, enzymes, extractions, mild chemical exfoliation and Celluma's FDA approved LED light therapy.
Microdermabrasion, enzymes and extractions will remove impurities and eliminate dead surface cells to allow a light chemical peel to penetrate more evenly and effectively.
*An Enzymatic Peel may be substituted in place of the chemical peel if you wish to eliminate flaking. This treatment is followed with Celluma LED light therapy to reduce inflammation, acne and stimulate collagen. This facial is designed to decrease congestion, stimulate collagen production, even out skin color and soften skin texture for smoother, brighter healthier skin. This facial is safe for all skin types and tones.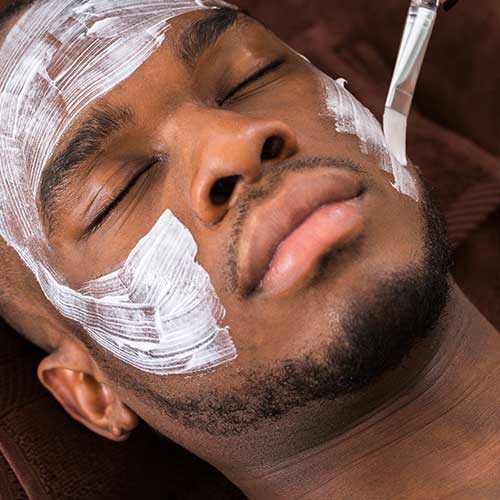 what products are used in men's facials?
Pepsin and Papain Enzymes
Gel-based enzymes that digest the cells of the stratum corneum. Maybe used on all skin types unless sensitive or allergic to fruit extracts. Giving skin a smooth, polished look and feel, these enzymes soften skin cells and comedones for easier extractions; reduces swelling and redness with a soothing, healing effect.
or
skin brightening enzymes
Skin brightening enzymes are active enzymes boosted with potent skin brighteners. By blending active enzymes and supportive brightening ingredients from various acids, Skin Brightening Enzyme softens and digests unwanted skin, supporting the brightening of surface pigment.
or
Bromelain Enzyme Paste
Bromelain Enzyme Paste is blend of the bromelain enzymes from pineapple and is boosted with pancreatin. Pancreatin contains several enzymes that give it proteolytic activity (hydrolysis breakdown of proteins) and lipolytic activity (hydrolysis of lipids), adding to the safe exfoliating properties of the enzyme. Bromelain Enzyme Paste is a treatment room MUST. It is very supportive in correcting and healing problematic, thick, coarse, and oily skin, softening scar tissue, and improving photo-damaged skin. When used with a facial, the enzyme deeply softens and digests dead skin cells while reducing toxins. The paste has exfoliating, antioxidant, antiseptic, and regenerating properties.
Microdermabrasion exfoliates dead skin cells to lighten and brighten your skin. Particularly great for large pores and congested skin, microdermabrasion leaves the skin soft and smooth instantly without any pain or downtime.
hibiscus peel
Hibiscus peel is the next generation of alpha hydroxy acids (AHAs). Enhanced with mandelic complex, Hibiscus Peel is a non-irritating, phyto bioactive peel that accelerates cell turnover while providing skin lightening, healing, and moisturizing benefits. This peel can help with breakouts, clogged pores and folliculitis. This treatment is great for all skin types, including ethnic skin. Hibiscus Peel stimulates collagen activity that provides antioxidant support.
or
Sake Peel
The Sake Peel is a powerful blend of Sake and skin regenerating acids make this an ideal skin peeling solution for men. Sake Peel reduces fine lines, tightens skin, and helps fight free radical damage. This gentle yet effective peel, will refine and renew men's skin for a youthful manly appearance. New healthy skin and back to the gym in just 7 days with a noticeable improvement in skin texture, tone, and diminished fine lines.
Celluma is a Professional FDA-cleared light energy device using NASA technology to improve cellular health by accelerating the repair and replenishment of compromised tissue cells.
Phototherapy is known for its healing and anti-inflammatory properties. Research has shown that low-level light therapy can accelerate tissue repair, decrease wrinkles, decrease acne, decrease inflammation, improve skin tone, wrinkles and texture.
Does this sound too aggressive? Not at all. All four services compliment one another. This treatment is considered "no downtime" in the skin care industry. With that said, downtime is very subjective. The definition of downtime varies from person to person. For the "average person" the skin will feel dry and tight for about 3 days and light flaking (or no flaking) for about 3 to 5 days (8 days total).
*Note: It is best to shave before your facial to receive the full benefits. Enzymes, microdermabrasion and/or peels will not be able to penetrate a beard or wherever there is longer facial hair. Ideally, you would shave the day prior to your facial treatment.
look amazing. be confident.