Chemical Peels
Fights Aging, Acne, Hyperpigmentation, and More
Chemical peels are generally considered to be the foundation of any results-driven clinical skincare treatment plan. They are central in our arsenal to fight aging, acne, scarring, fine lines, wrinkles, sun damage, precancerous growths, and hyperpigmentation for all ages and skin types. Chemical peels are one of the safest, most effective and least expensive treatments for all ages and skin types (including ethnic skin).
Chemical peels of any strength offer measurable improvement in reducing wrinkles, fine lines, pore size, and oil production while clearing blemishes and improving the skin's texture, tone and hydration. Peels may be especially beneficial in the treatment of hyperpigmentation, rosacea, acne, sun damage and photoaging.  Your skin takes on a more vibrant appearance with even a single peel!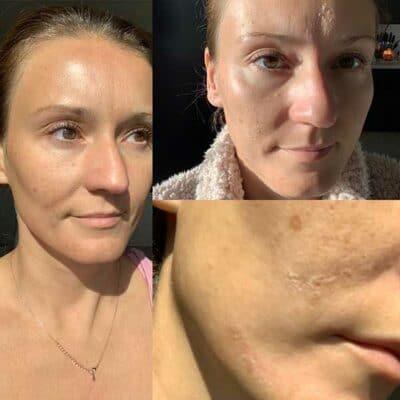 Chemical Peels 101
Chemical peels are offered utilizing different acids and enzymes in varying strengths.
Chemical peel acids Celebrity Skin may choose for you are glycolic acid, salicylic acid, lactic acid, trichloroacetic acid (TCA), mandelic acid and tartaric acid.  Many factors are taken into consideration to determine the best peel for you on the day of your appointment, such as your current skin condition and desired downtime.
The strengths of chemical peels can be categorized as a light/superficial peel, progressive peel, medium depth peel or deep peel. Remember that even if your skin is a prime candidate for a light or medium depth peel, you may have lifestyle considerations that will factor in (work consideration, upcoming vacation, big event, sun exposure during the peel recovery or the following week), and we may make a joint decision to either hold off peeling or administer a light peel versus a medium depth peel instead.
Am I A Candidate For A Chemical Peel?
Chemical peels are one of the safest, most effective and least expensive treatments for all ages and skin types (including ethnic skin). However, there are contraindications, or specific reasons, why a chemical peel may not be suitable for everyone.
Contraindications For Chemical Peels:
Accutane – 1 year off (isotretinoin, 13-cis-retinoic acid)
Recent cosmetic surgery, laser resurfacing, deep chemical peels or dermabrasion (not microdermabrasion) – must have doctor's note
Active bacterial, viral, fungal or herpetic infections (cold sores, shingles)
Pre-existing inflammatory dermatoses (psoriasis, atopic dermatitis, pemphigus)
Rosacea – Will need to be evaluated (moderate to severe or current flare up)
Facial cancers (especially facial melanoma), history of radiation to the region, undergoing chemotherapy currently or within the past year. Must have doctor's note.
Serious medical conditions such as diabetes, severe systemic autoimmune disease, infectious disease.
Pregnant or lactating
Allergy to aspirin (Salicylic Peels)
Permanent Cosmetics (such as microblading of eyebrows) – best to wait 7 to 10 days then cover with occlusive barrier
Discontinue Retin-A, Tretinoin, Renova, Tazorac, EpiDuo, Differin, Avage, Ziana– for 3 to 7 days prior to treatment
Currently or recently on prescription steroids
Sunburned or compromised skin, open wounds, lesions, rash or irritated skin
Facial Waxing – requires a 72-hour waiting period
Obsessive pickers
Light/Superficial And Progressive Chemical Peels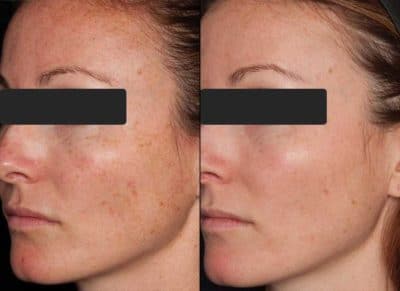 Light/superficial peels are ideal for:
Younger individuals (puberty up) to address minor skin problems
Individuals who do not want to experience downtime (peeling)
Individuals with sensitive skin
Individuals who receive ongoing monthly light peels, as monthly medium depth peels indefinitely are not advised
Light/superficial peels are the mildest type, only exfoliating the topmost layers of skin. Light/superficial peels have minimal side effects (slight dryness, mild to no flaking) and are quick to recover from. You could actually wear makeup and go out to dinner the same day following this peel and no one would know you had anything done (although not recommended).
Progressive peels are light/superficial peel treatments performed every 4 – 6 weeks on a regular basis. They will have cumulative effects without substantial downtime. For darker skin tones, progressive peels reduce potential risks that medium depth and deep peels carry for this skin type. Progressive peels are an ideal preparation for darker skin toned individuals wanting/needing medium depth peels.
Outside variables can affect the strength of a light/superficial peel. For example, use of skincare products containing acids and when they were used, time passage since you received a previous chemical peel, frequency of getting light/ superficial peels, as well as your aftercare routine can increase or possibly decrease the level of chemical peel results. For example, use of Retin A or some other acid (AHA, glycolic, salicylic) consistently prior to a peel could possibly increase the level of your light/superficial peel, meaning you might be flaking for a bit longer.  Some aestheticians like myself, contrary to other schools of thought, recommend using acids to prepare the skin prior to peels to increase your results. The "average" time for flaking and peeling is 7 – 8 days from start to finish, but no one can guarantee this precisely.
Medium Depth Chemical Peels
Medium depth chemical peels are deeper and target the intra-epidermal layer.
This peel may be administered every 6 weeks if needed, but not indefinitely.
There is minimal to moderate downtown with a medium depth peel.
Skin exfoliation starts within 2-3 days of treatment, with the skin feeling dry and tight. On average, the skin begins to flake around day 3 and flaking can last 5-7 days, with flaking tending to be more noticeable than with light/superficial peels.
Sometimes the skin looks shiny like parchment paper and wrinkles and brown spots appear more pronounced until the peel has completed.
This peel is safe for most skin types, including darker skin tones, so long as the skin has been appropriately prepped beforehand with products and progressive peels (The VI Peel would fall under the medium depth peel category).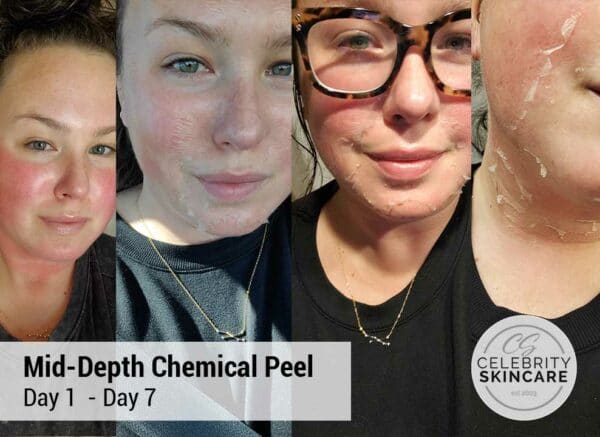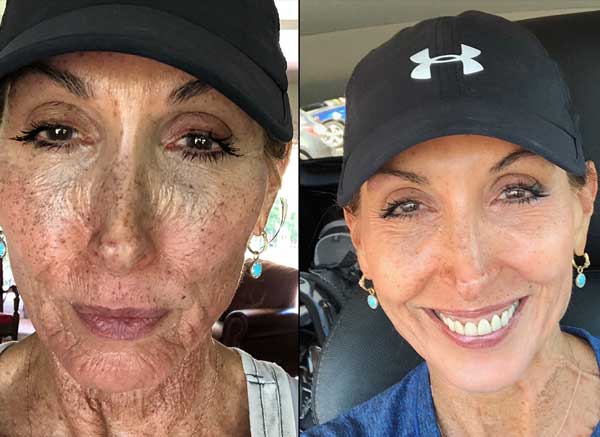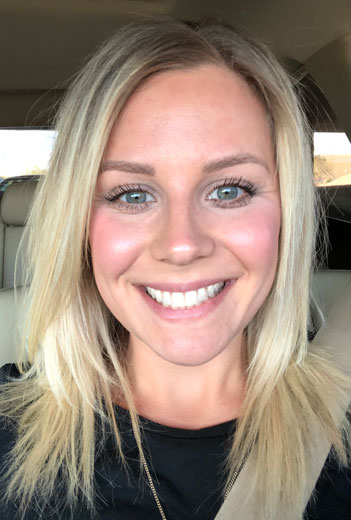 Results 7 days after a medium depth peel. This illustrates the results from the chemical peel to help remove hyperpigmentation.
Medium Depth Chemical Peel Progress Photos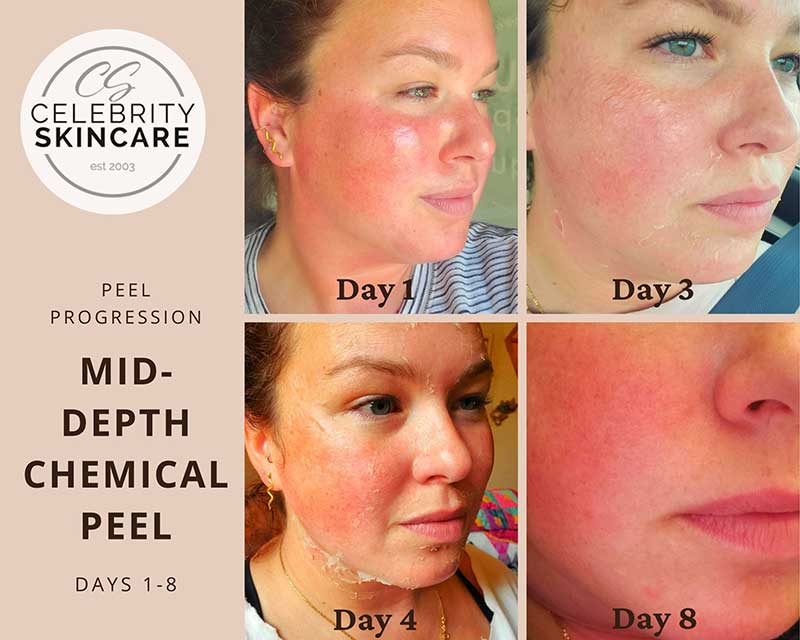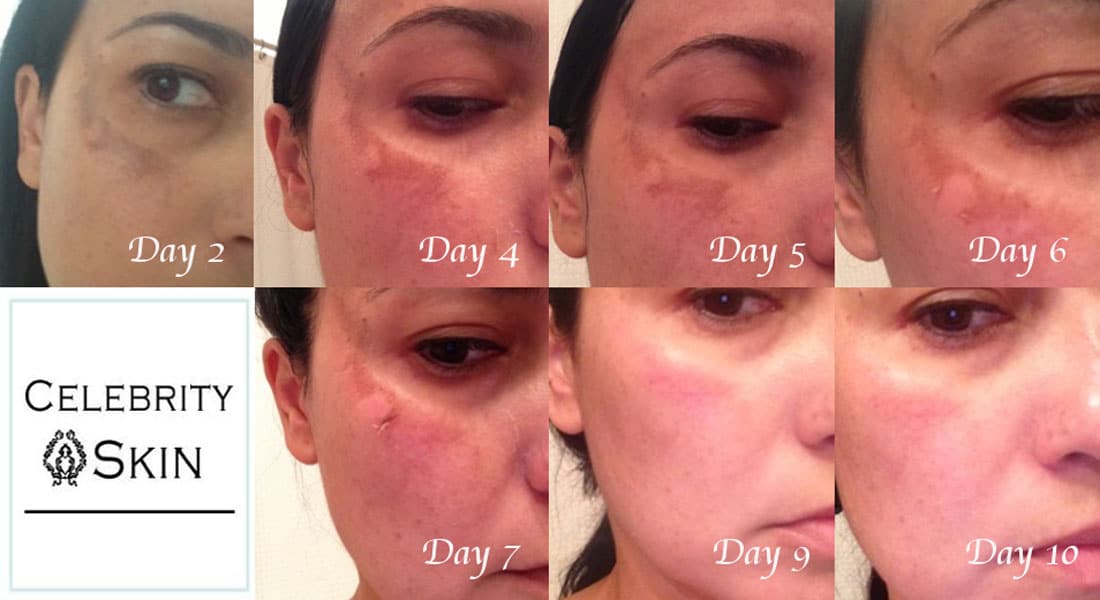 Can I Peel Other Areas Of My Body?
Yes, almost any part of the body can be peeled and rejuvenated! 
Although chemical peels are most popular for the face, almost any part of the body can be peeled and rejuvenated.
With a Body Peel, you can get rid of unsightly sun damage and improve the health of your skin everywhere! Our popular Works Facial includes hands and chest, so it's a great option to tackle everything at once.
We can peel your arms, legs, back, and more with our body peel treatment. Some of the more popular body parts, aka "the forgotten zones," are the skin on the neck, chest and hands.
The skin on the neck and décolleté is thinner, contains fewer sebaceous glands and is often forgotten when applying corrective products and sunscreen. The skin on your hands often looks the most "beaten up" and spotty. A Medium Depth Peel will help to produce noticeable improvement in the texture and tone of your hands.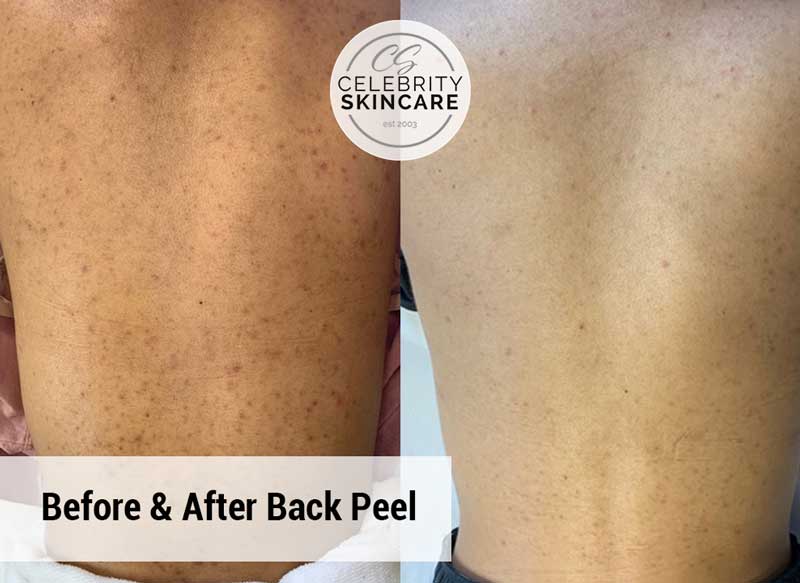 Yes, chemical peels are a core component of our acne treatment facials that address clearing active acne breakouts as well as old acne scars. 
Celebrity Skin acne facials are custom treatments designed for you, and work alone or in conjunction with any prescription acne treatment products you may be currently using. For acne sufferers, we typically employ medium depth chemical peels to achieve our goals of clearing active acne and reducing the appearance of hyperpigmentation and scarring from prior breakouts. Chemical peels can be very effective at treating acne and minimizing old acne scars on the face or any part of the body.
Which Services Include Chemical Peels?
Chemical Peel Express Treatment (a la carte)
The Chemical Peel Express Treatment consists of cleansing, light/superficial chemical peel and topical vitamins. The treatment time is half of the "Clinical Facials" that often include chemical peels combined with additional services. Express Chemicals Peels can be combined with other express ala carte treatments such as dermaplaning, microdermabrasion and oxygenation.
Clinical Facials
Clinical Facials are designed to treat clients with problematic skin such as acne, fine lines, wrinkles, brown spots/hyperpigmentation/melasma, scarring and rough dry texture.
Clinical facials, sometimes known as medical facials, include cleansing, sometimes steam, enzymes, extractions, exfoliation of some type (microdermabrasion/dermaplaning/chemical peel) and hydration, at a much more intense level than a spa facial or classic European facial.
Celebrity Skin offers a variety of clinical facial treatments including:
Dermaplaning Facial
Microdermasion Facial
Acne Deep Pore Cleansing Facial
Teen Acne Facial
Back Facial
Men's Facial
"The Works" Facial
Celebrity Skin Signature Facial
Chemical Peels Related Articles
What Skincare Products Should I Use At Home?
A good home skin care regimen is essential for maintaining and improving the results of your peel. The "right" skincare regimen can help prevent future damage, help maintain healthy radiant skin and correct previous damage. Professional skin care products are not over the counter because they contain higher concentrations of active ingredients that actually work.
At Celebrity Skin, we recommend and utilize a wide variety of reputable clinical skincare lines such as: ViDerm, SkinCeuticals, Jan Marini, and Rhonda Allison. These are the product lines we trust, use ourselves in all treatments, and sell to our clients for at home use.
Skincare Products NO NOs:
Do not seek advice from the gal at Macy's. She is likely not qualified. Not the resort spa either! They may be aestheticians but they are probably not medically trained or equipped with treatments/products strong enough to cause measurable improvement.
Do not purchase skincare products on the internet or Amazon because they have great reviews!
Even if it says the product was designed for hyperpigmentation, acne and/or wrinkles do not buy it. The manufacturer has seen YOUR skin.
Don't follow your girlfriend's or a YouTuber's advice on skincare. You do not have the same skin that they have. You are unique.
Even if you are seeing a Dermatologist, you need an Aesthetician to work in conjunction with your provider. In the end, not seeking professional advice can be costly and frustrating.
The products chosen for you and your peel treatment are customized based on your individual needs. Everyone's product regimen is different for everyone. One person may be doing it for acne scarring, another one for brown spots, another one for fine lines and wrinkles and some may be doing it for everything! You may need different products if you travel or during various times of the year.
Proper clinical skincare products, following advice, and consistency are key to getting the results you desire. A good home skincare regimen can help prevent future damage, maintain healthy skin and correct previous scarring or skin conditions.
How Do I Prep For My Chemical Peel?
It's important to review our chemical peel instructions to help maximize your results and minimize complications.